Interview Skills Training Course
This interview skills training course is aimed at anyone who wishes to develop their interviewing skills. It will give participants the basic skills and knowledge needed as a foundation from which they can later develop the specialist interview skills of planning, preparing, questioning, active listening and note taking.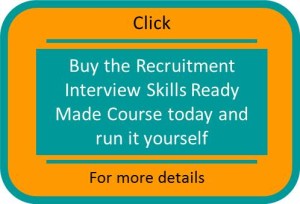 The course content and duration is dependent upon the specific needs of the organisation.
Each Interview Skills training course is built around professionally filmed interview scenarios set in a company called Barton International. Learn the skills of interviewing by watching how it is done before you practise.
Practise your questioning techniques in a near-live environment with "real play" interviews. These are designed to simulate the live interview.
Watch a sample from one of the videos
Watch other video samples from this course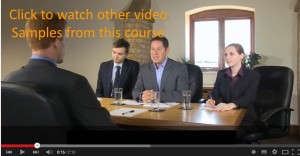 Who should attend the Interview Skills training course?
Team Leaders, Managers, Supervisors, HRD Professionals, Directors and anyone who has to recruit or interview as part of their job.
Typically, you will learn how to:
Produce a person specification which matches task and culture

Design behavioural interviewing questions
Use critical incident questioning
Practise using the behavioural interviewing techniques
Use an assessment process which provides objective, unbiased results
Participants 'real play' interviews will be recorded and they will receive feedback on their interviewing technique. Each individual is sent a DVD of their interviews on the course so they can review their interview skills and develop an action plan.
Developing an Interview Skills course
All our interview skills training is tailored around your processes and documentation so that participants learn using the same procedures they will use when carrying out live interviews.
Participants skills are further enhanced with the practise interviews they will carry out during the course. These are as near to real life as we can achieve on an interview skills course.
---
Please select an option below for more information.
Interview Skills Courses
Resources


              [ Train the Trainer ] [ Recruitment & Selection Interviewing ] [ Performance Review / Appraisal Skills ]                 [ Management Development ] [ Personal Development ] [ Enquire About an in-Company Course ]
For more information about our tailored interviewing skills training courses
call 01604 810 801 or click here to contact us.