The following policy applies to ensure that we are as environmentally friendly as is reasonable: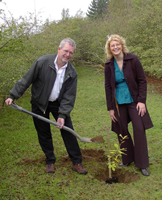 Adrian and Kay planting an oak tree in Earls Barton Pocket Park, October 2008.
Empty ink and toner cartridges are returned to the manufacturers via a local charity for recycling purposes
Economode is used for lighter printing on internal documentation, thereby using less ink
All paper is sourced from recycled paper or, when this is not available, trees grown in sustainable forests
When delivering at client's premises or hotel/conference centre, we use the client's own recycling for cups/paper etc. If the client/conference centre does not recycle we remove all glass or plastic bottles and paper from our course to recycle ourselves
We maximise our use of email: emailing letters, proposals, invoices, contracts and any other documentation to reduce printed paper, envelopes and postal miles used
Additional handouts required following a course are up-loaded to a password controlled area on our website for down-loading by attendees. This eliminates delivery miles and encourages people to not print the handouts but just view them on their system or intranet.
Confidential waste is shredded and sent via the local authority for recycling
All other waste paper, card, bottles and plastics are sent to the local authority for recycling
Unused single-side printed handouts from courses are re-used for the production of draft and file documents, fax headers etc. by printing on the clear side
Cardboard boxes and padded envelopes are re-used for outgoing post
Non-confidential shredded paper is packed into used A4 envelopes and used as packing for boxes
Computers and printers which have reached the end of their business usage are given to schools and charities for reuse
Our Company logo is an Acorn and to build on this we donate Oak Trees to our local authority for planting in pocket parks and suitable landscaped areas. This offsets our carbon footprint
Whenever possible we encourage our clients to hold meetings with us over the telephone to reduce car miles
For the second meeting onwards held at client premises we invite the client to pay a green charge which is used to provide trees to our local community to offset the carbon footprint.