Achieve More with Effective Performance Appraisal and Review Training
Being a skilful appraiser and reviewer is a must for any manager and team leader. The performance appraisal and review is one of the most important ways an organisation and the management team can maximise productivity and opportunities from their staff and promote their future development.
You need to approach this as an all year round, continuous improvement process. It is not just a "once a year" interview.
Performance Appraisal – A Three Stage Process
The process is best viewed as three stages:
Stage 1 – Goal Setting
All jobs should be goal driven. Goals need to be set and agreed at the start of the performance appraisal period. The goals need to be measurable and with clear time boundaries.
Stage 2 – Continuous Review
Reviewing the goals should be a regular and ongoing process. An effective review enables each goal to be discussed, the time boundary to be refreshed, the approach and system to be improved, and blockages to be managed. The ideal role of the manager is as coach, so the employee owns each task they are committed to.
New goals and projects can be initiated in these review meetings and their implications on other goals can be assessed.
Stage 3 – End of Period Review
At the end of the review period (usually once a year) the whole year should be reviewed and this is when the documentation is usually completed.
There should be no surprises in this meeting, as it is a summary of the whole period under review.
Your Performance Appraisal Process
Each organisation has its own specific way of planning, organising, conducting and evaluating the performance appraisal process, so these stages should be flexed to fit your own system.
Performance Appraisal Training
All people involved in carrying out the performance appraisal process should be trained to achieve the best they can from the whole system. This is an essential tool for anyone involved with managing people, so a good People Management Course or an in-house bespoke Modular Management Programme should be provided as a basic requirement for all managers and team leaders.
Additionally, the appraisees need to ensure they get the best they can from the process, so their training need is also essential. Provide clear appraisee training for everyone so they can maximise the partnership they have with their manager.
---
More Information
Open Courses
---
Appraisal and Key Result Areas – Useful Download
We have written a handout about creating Key Result Areas from the job description and then how to write SMART objectives and measurements from them.
You can download this from here: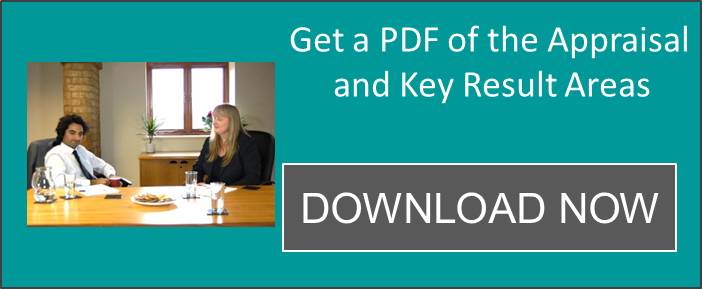 ---
Please select an option below for more information.
A typical course
Courses
Case studies
---
Other Training Options:
For more information about our tailored training courses call 01933 227 695 or click here to contact us.