Description
Learn to keep on top of your workload. This course teaches effective business time management skills which will greatly increase your work capacity. Applying the skills that you learn on this one-day Time Management course to your day-to-day life will help you prioritise your tasks and efficiently manage your time so that you thrive in a pressured environment. This time management course uses a psychometric test of personality which can explain why some people have problems in managing their workload. One attendee doubled his productivity using our method of prioritising. EVERYONE reports a minimum of 5% improvement in effectiveness from evaluation of this course. Topics include planning, prioritising, diary management dealing with interruptions and making meetings effective.
Who should attend this Time Management course?
Anyone who would like to improve how they manage their time and workload.
Typically, you will learn to:
Identify the barriers that get in the way of your work
Understand the importance of planning and prioritising your workload
Identify behaviours in yourself and others that cause time to be lost/encroached upon
Identify ways to maximise your time to reduce stress and tips to improve productivity
This is a highly participative workshop, using a psychometric test to highlight areas which may explain why delegates have problems with time. Delegates will find they are not alone in their problems and the group brainstorming sessions will produce ideas for implementation back at work.
Here's what recent participants have said about this Time Management course:

"The course really has helped." – Andrew Sharman, Airwair International
"I just wanted you to know that my overall organisation of my work load has improved dramatically. I realise that spending time organising my files and preparing in advance for many of tasks has made a real difference. Especially to my outlook day to day. Thanks so much." – Sherri Booth , Dept of Computer Science, Loughborough University
"The time management course has changed, for the better, the way I approach both my professional and personal life." – Jo Moore, PA to the Managing Director, Countrywide Property Lawyers
Mindfulness and Time Management
Read this thought provoking blog on mindfulness.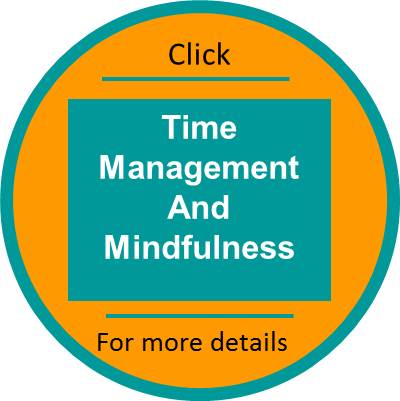 Time Management Options
Do you need a tailored in-house time management skills course or a self-paced e-learning course? Or would you like to buy and run your own ready made "off the shelf" time management course?
Read about our other time management options