Often we find that course participants complain of the following things regarding learning events:
They have not tailored the training to the learners, the organisation or the industry sector.
There is not enough application for their own jobs
A Modular management programme gives lots of theory but not enough time for review and application
Senior Management are not committed to the development of staff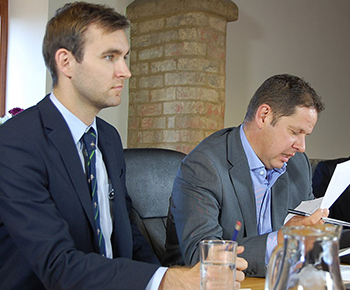 Evaluation
What we believe in is a modular management programme which identifies where individuals and the organisation are at the start and at the end of the programme hence, we can evaluate the developments made. The final module will establish where each course participant stands in relation to the implementation of all the learning received and development needs now outstanding.
Our approach is to tailor a programme with individuals attending a module every 6-8 weeks. Subsequent to each module, the individuals should work towards individually agreed development plans and then produce evidence of their performance. Some companies and course participants opt for this in the form of:
A written assignment sent prior to the module to The Development Company. We can provide individual coaching and feedback to each individual.
A presentation made at the start of each module, either individually or as a group. We can provide individual and group coaching and feedback to each individual.
A discussion made as a group at the start of each module. We will provide both individual and main group feedback.
Modular Management – Projects for individuals/pairs
To get a payback and ensure commitment from attendees and managers alike, course participants can work on projects which require them to work externally, cross departments and individually to research and make conclusions. An end of programme presentation to Senior Managers and Directors gives the modular management programme status and clients have benefited from the conclusions drawn.
Topics covered in modular programmes have included the following:
The implications of new technology on the organization
Identifying new business – a fresh approach
Effective communication – the results of a communication audit and recommendations
An analysis of sales operations and how we could improve the effectiveness of sales and marketing
An analysis of production and how we could maximise output
Product Training
Improving customer service
Strengths and weaknesses (or SWOT) of the organisation and competitors
What do Modular Management programmes contain?
The following is an idea of the modules we have run for companies. We are not stating that 7 is the number for this type of programme; it is an idea of content.
Module 1, Programme Start Up (1 day)

This module will be used to help the delegates get into the programme and to enable the facilitator to identify individual specific needs. The information gained from this module will be used to personalise the programme for each person and also tailor each module to fit the culture of the organisation.
Content

The strategic goals of your organisation

Your operational goals
Activity: What gets in the way of you achieving your goals?
Agreement of individual development needs from this programme
Agreement of measurement process for individual performance
Activity: What is the culture of your organisation?
Completion of Team Performance questionnaire
Completion of Empowerment questionnaire
Completion of the Learning environment questionnaire

Assignment
Identify areas of difficulty encountered in your job between now and the next module.
Module 2, Managing Yourself (1 day)

Managing yourself is the most important start point. If you can't manage yourself, then it is more difficult to manage others. The module is based on the completion of a personality questionnaire which enables each individual to understand why they do the things they do and why they find other people either easy or difficult to get on with. We then introduce tools to help the delegates deal with different situations.
Content

Completion of personality questionnaire

Identification of each delegate's strengths and limitations
Communication within the workplace
Dealing with difficult people
Managing conflict
How to be more assertive

Assignment
Implement learning with difficult colleagues/bosses/customers and log results.
Module 3, Managing Others (1 day)

The delegates can directly use the learning from the previous module to manage and influence other people. This module links this with established management understanding about how to motivate people and creating respect from the workforce.
Content

Leadership styles

Use of authority
Motivating people
Performance management
Empowering people

Assignment
Establish performance objectives with employees and agree on measurement processes.
Module 4, Managing Your Time (1 day)

Effective time management is arguably the best kept secret of business success. It greatly increases your work capacity and is a clear sign to others that you are an achiever.
Content

Prioritise activities; concentrate on the important issues

Develop techniques for releasing valuable time
Deal with time wasters and interruptions
Use delegation as a coaching technique

Assignment
Complete a time log over 5 working days and analyse the results
Module 5, Negotiating Skills (1 day)

Almost every day, in every aspect of business; selling, buying or dealing with contractors, we can give and take to agree on a deal. The skilled negotiator always achieves much more without upstaging the other party.
Content

Preparing for the negotiation – get your strategy right

Negotiating tactics
Questioning the other party
Making acceptable proposals
Achieving a conclusion beneficial to both parties

Assignment
Negotiate a 'win-win' solution in the next tricky situation with a customer, boss, supplier, member of staff or whoever else
Module 6, Presentation Skills (1 day)

Excellent presentation skills are vital in communicating ideas and for influencing others to follow your direction. In customer negotiations, your presentation skills determine success or failure and large contracts hinge on your ability to put across your message. Once learned, excellent presentation skills reward you for the rest of your life. This course uses video filming and playback to provide feedback and help delegates see themselves as other do.
Content

A presentation to highlight areas to develop

Developing a framework to use for all presentations
Planning and preparing the presentation
Making a good first impression
Understanding the effects of your body language
Using visual aids to support the spoken word

Delegates need to bring to the course their end of programme presentation to practise.
Assignment
Perform like stars on the big day!
Module 7 Programme Review (1 day)
This module allows the entire programme to be examined, and the learning to be evaluated. This will be done via evidence from the delegates themselves and feedback from their bosses and staff. This module will also identify other outstanding areas of development need.
Content

Review of programme

Comparison of boss/staff feedback from start of programme to end of programme
Identification of current outstanding issues/future development needs

Assignment
–
Assessment and Evaluation
At the end of each module, delegates will be required to go back to work and implement the learning received by carrying out an agreed assignment (optional). The start of each subsequent module will be used to evaluate each delegate's results from their implementation.
We recommend carrying out an evaluation of the implementation of the learning 6 months after the end of the modular management programme.
---
Please select an option below for more information:
A typical course
Other Management Development Courses
Other Options:
For more information about our tailored training courses, call 01933 227 695 or click here to contact us.