Training Evaluation Course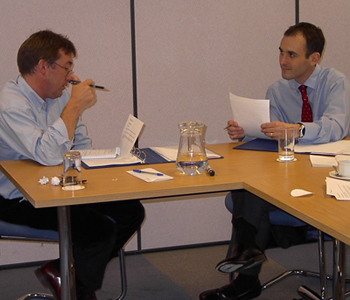 This training evaluation course focuses on the requirement to implement an ongoing training evaluation process, following on from the initial need through to the newly gained skill or attitude in the workplace. Practical and reliable methods of evaluating training are analysed and assessed. It is a highly complementary course to any organisation with or considering the Investor's In People initiative.
The training evaluation course can be tailored. The content and duration is dependant upon the specific needs of the organisation.
A lot of money is spent on training within organisations, but how do we know the training system is effective? According to a recent survey, "a massive 74% use the instant feedback or 'happy sheet', which retains its position as the most commonly used method of evaluation, despite (or perhaps because of) its over-simplistic nature".
Who should attend this course?
Trainers, Managers, Facilitators, Educators, Course Designers, HRD Professionals and anyone involved in the training of people in an office, retail, distribution or service environment.
Typically, you will learn how to:
Identify gaps in your staff's performance
Set measurable and realistic performance objectives
Select and carry out a range of practical techniques for evaluating the results of training and development at an organisational, team and individual level
Follow a method for establishing the costs and benefits of training and development activities
The programme is very pragmatic in design. The attendee needs to identify a current course or intended course design, which they can use as a case study course throughout the programme. As they cover the learning, they will apply it to their case study course.
---
Other Options
Please select an option below for more information:
A typical course
Courses
For more information about our tailored training courses, call 01933 227 695 or click here to contact us.