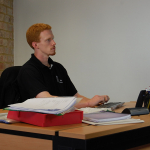 Guest blogger, JenVB, explores here the role of elearning as part of your organisational learning strategy.
Now that so much information is available online, creating interactive knowledge based online courses is much more cost and time effective than paying people to travel to a fixed location and then listen to a presenter read out Powerpoint slides.
Introduction
Whether you are curious about learning online or want to improve your internal systems, creating a considered e-learning strategy can encourage good learning habits and boost the performance of individuals.
E-learning courses are everywhere nowadays and this blended learning approach takes advantage of the growing ease of connectivity brought about by advances in technology. This method combines the use of online modules, media, and quizzes with peer review and on-the-job problem solving to reduce the time spent in formal training whilst maximising learning efficiency.
The Benefits of an E-learning Strategy
Workplaces are using learning management systems (LMS) to reduce costs and the time spent on training employees. A big advantage is to enable workers to learn whilst on the job or outside the job; whichever suits them. This also reduces the dreaded 'skills gap' of newly hired and skilled workers which can take years of training to bridge. E-learning will provide the knowledge and understanding inputs so that the worker can apply these directly to their job.

The increasing accessibility of various e-learning courses online is also improving the quality of the labour market. Current available e-learning portals make learning easier, more convenient and efficient for trainees. E-learning portals and systems can also be readily accessible from almost anywhere in the world.

Employing an integrated e-learning strategy can give both businesses and workers a competitive edge.
Cost-Effective Online Learning
Capitalising on today's unprecedented access to information available online affords practically anyone the luxury of learning something new.
The open source learning platform Moodle is free to use and has online support which is easy to use. The advantage of this e-learning platform is that it has a strong user community that can answer questions very quickly.
So for minimal outlay you can easily set up an e-learning hosting platform. You still need to source your learning content of course but this can be a combination of links to various knowledge sources and tailored learning modules which can either be developed in-house or outsourced to the right e-learning authoring experts at a very reasonable fee.
User-Centered Design
In Deloitte's Meet the Modern Learner employees say they can only spare 1% of their time on training and development. The amount of online information out there can be overwhelming so modules should deploy information in small amounts and make it easily accessible at the right time.
More importantly, the psychology of learning as used by professional trainers in the training room should also be used in e-learning modules, integrating videos and interactive knowledge content into logical and well-structured sessions.
A big benefit of e-learning is that the content can be easily updated so that is does not become so easily outdated. Creating more focused content that is timely, relevant, and fresh ensures that learners stay engaged.
Location learning
Training Zone explains how e-learning allows employees to learn no matter where they are. They can all access the same information and this gives companies much more flexibility. For example, oil giant Shell created its own e-learning portal, the Shell Global Open University, for its employees. As Shell operates in 70 countries and manages over 92,000 employees, it utilises the e-learning platform to streamline skills transfer across countries. Employees can access e-books, online courses, and webcasts no matter where they are in the world.
However, creating an e-learning platform isn't just for international employees, it also connect workers who work in different parts of the same country or different parts of the same building.

Verizon Connect explains how UK fleet companies are using personal coaching apps to train their drivers. This allows multiple drivers to continuously learn despite not being in the same geographical location. The site also notes how the app comes with a leaderboard scoring system. This allows companies to reward the best performing drivers, which will also increase engagement.
In Conclusion
Every organisation, regardless of size, needs a well-considered e-learning strategy.
This does not have to be a major expense and can easily pay for itself with better skilled and more motivated workers.
The technology is now at the right stage to enable e-learning to be a significant part of your learning and development offerings.
Written by JenVB for The Development Company Limited
Thank you for this interesting blog JenVB. We hope this gets people thinking about what they could be achieving with e-learning.
We are happy to provide advice on how to create effective e-learning content and how to integrate e-learning knowledge and understanding into the main learning and development strategy.
We are also happy to provide examples from some of our courses to help people decide how e-learning best fits their strategy needs. Adrian Green The Development Company Limited