We understand that the role of PA/Secretary is an interesting and challenging one. That's why when we design PA/Secretary training events, you will find they will be able to use practical and leading edge tools.
Case Study – AVON Cosmetics

Avon Cosmetics is a world class brand and such a brand requires PAs of excellence. In 2009 Claire Lovitt started the Avon PA forum where PAs can meet on a quarterly basis to share best practice. Twenty five PAs from across the Avon business attended a one-day development event and The Development Company was the chosen provider.
The PA's selected a fast paced, fun event in which four subject areas were chosen:
Interruptions
Communication styles
Work/Life balance
Managing Stress
"I would like to thank you once again for a fantastic day. All of the Assistants very much enjoyed the event, I am receiving constant feedback! I would very much like to have this as an annual event with The Development Company."
Claire Lovitt, Executive Assistant, Avon Cosmetics
---
7 Tips For Perfect Minute Taking
Improve your Minute Taking Skills With Our FREE Ebook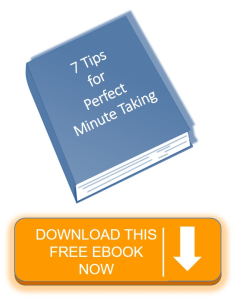 ---
Call us today on 01933 227 695 or click here to discuss minute taking skills, coaching, seminars, courses and events we can deliver for you.
Below are some of the topics we have covered in seminars to PA & Secretarial staff.
Click on the link to view the outline.
We've designed a set of core PA/Secretarial Core Competencies and we can deliver seminars, coaching and courses to develop your staff in all areas.
---
Top Tips for PA's
Download our 10 tips on working assertively and 10 tips for managing your boss.

10 Tips For Working Assertively