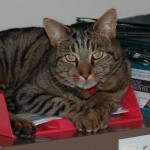 This is Tiger. He is our office cat. He provides calmness and tranquility and a sense of reality to our everyday work. So I guess that Tiger is one of our leaders as he is a role model and helps us challenge our own perceptions and to put things in perspective.
I admire Tiger's simplistic approach to life. He sleeps when he is tired or when the weather is not to his liking. He eats when he feels hungry and not to some artificial self-imposed timetable. He purrs if he likes you and he avoids you if he doesn't. If he wants attention he gets in the way until he gets it. .
Tiger doesn't do relationship problems. If you are part of his life then it is because he gets something positive from you. If he doesn't then you are not part of his life. Think of how the World would be if we were all like that? No more dysfunctional families as, like Tiger, you wouldn't feel "obliged". No more work relationship problems as one of you would just move to a different "garden" and find a new "owner".
I think Tiger can teach all of us something new…
Adrian Green
---
If you enjoyed reading this blog, please share with your friends using the buttons below: