Using Psychology as a Trainer
Training psychology is becoming more important for trainers. The role of the trainer is moving further away from the traditional role of content expert and more into facilitating the learning experience for the learners.
Training needs to be more learner focused as a result therefore, trainers need to be able to use group and individual psychology as part of their facilitation.
What Training Psychology is Needed by Trainers?
Group Psychology
A trainer needs to manage a group of people towards an agreed set of outcomes, so they need to be able to use:
Consensus reaching
Discussion leading
Group coaching
Group facilitation
Additionally, some useful models to apply to identify and manage difference and dynamics within the group could be:
Belbin Team Roles
Drivers
Learning Styles
Conformity and Obedience
Tuckman
Bion
Group Imago
Group observation models
Individual Training Psychology
The key areas needed include:
A model of human behaviour such as transactional analysis or social styles
Positive Psychology
Coaching using GROW
Managing difficult behaviour
Training Psychology Actions
Start by identifying how you need your trainers to be more effective. Visualise what that will look like and then benchmark your existing trainers against that.
Provide us with that information and we will suggest an approach to achieve your required outcomes. Contact us now.
For information on our Train the Trainer Courses, click below: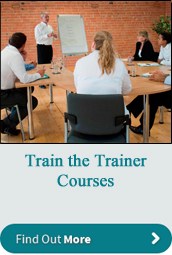 For more information, call 01933 227 695 today or contact us.