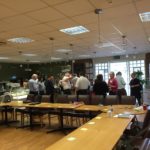 Networking is a core skill to develop for any professional, whether you are self-employed or employed.  Paul Green of NN Connect shares his top tips on networking with us. This is part one – Paul will share three tips for effective networking with us…
Given my experience of networking over the last 15 years, I thought you may be interested in some insights to help you get the most out of networking? So here goes…
How to get more referrals
Get more referrals by letting your audience know who your ideal client is. If your "elevator pitch" is fairly generic, it is harder for someone to think of a potential referral for you. Think about it now, if I said I design websites or offer bookkeeping services does anyone spring to mind? It may do; but if I said I am looking for pubs, clubs or hairdressers for either of those services, you are more likely to have a specific example pop into your head. Depending on what your business is, start to identify your preferred customer; ideally it should be those that are most profitable for you or those that buy your highest margin product.
There are a number of ways of defining this – it could be turnover, number of staff, geographic location, industry sector, sex, age or ethnicity, hobby/interest, position within a company, and so on. And most likely, it's a combination of these.
An extreme example of this that has worked effectively for an embroidery business I know, is to ask for someone specifically by name within an organisation, where an introduction is required.
Try it when your next at a networking event, and see what a difference it makes to your business/job role.
Want Referrals? Then Give Referrals!
So you're a regular networker? And you network because you want to generate business opportunities? So how many referrals did you give to your networking group(s) this week, last month, ever?
The best incentive to get noticed and to encourage people to do business with you, is to bring along leads for your fellow networkers. Whilst it may not be a quid pro quo situation in that you get leads back from those that you gave leads to, or that you will get exactly the same amount back as you gave; you will raise your profile as someone who people want to do business with – and you may even get more back than you gave.
Also – think about how to help people refer to you. Spend some time…
making sure they know the type of client you are looking for,
the need or problem that your particular product or service solves,
the sort of questions to ask a prospect to identify the potential need,
and how to introduce yourself.
These may not be obvious from your introductions or 1-to-1 meetings, and could require extra work on your part to make sure your potential referrers are fully briefed.
When referring someone else, one phrase to consider is "What I like about Fred is…" and then you can add some of the benefits that someone would get through doing business with Fred or maybe highlight something unique about the product/service that Fred offers.
How Do You Measure The Value Of Networking?
I guess the obvious answer to this question is "the amount of business that I receive as a result of going networking"! Well yes, but is that it?
What about the opportunity to identify and meet reliable suppliers for your business? Unfortunately, I come across a number of people who have had their fingers burnt through choosing a supplier that seemed credible at the time, but then didn't deliver. Networking is a great way to get to know someone; to build up that relationship and get to see if they can "do what they say on the tin"! Often other networkers will have had direct experience and will be able to recommend a business with first hand knowledge.
And how about education? Do you have the opportunity to develop your business through learning and engaging with other like-minded business owners; sharing issues and ideas? Being able to glean advice and support from other attendees of a group or maybe a guest speaker, can be a valuable contribution to your business; particularly if you are in your formative years. There's no point in making the same mistakes that previous businesses have made; of course new ones are fine – because that's part of the learning process!
Finally, what about the social aspect? Running your own business, even if you have staff, can be quite a lonely, isolated and sometimes pressurised place to be when the buck ultimately stops with you. Being able to get away from the day-to-day fire-fighting of running a business and spend a couple of hours over breakfast, lunch or at an evening event, is sometimes all it needs just to get you back on track and ease that stress.
So, before you dismiss a networking group because it hasn't generated enough business for you, stop to think are there other benefits that you are getting that are worth your investment of time and money?
If you implement my first three tips for effective networking, you will reap the rewards. Make sure you check back for my next three tips for effective networking.
Paul Green is an author, has featured as a guest blogger and writer in magazines, and a Sage Business Expert. As well as being accredited by the Institute for Independent Business, since August 2012 he has run NN coNNect; a community of local businesses where the emphasis is on business growth.
The Development Company runs interactive, and informative seminars and half day events to enable your team to start a networking strategy, set meaningful networking goals, and get results from networking. Contact us if you would like us to provide Networking skills training or one to one coaching.

"Thank you Kay, thoroughly useful seminar today. I shall be implementing the 30 second intro myself during the various networking events I attend."

Sunny Singh, Business Development Executive, Northamptonshire Chamber of Commerce