Do you want to make your own training video?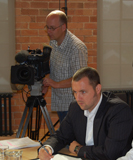 Now you have seen the quality of our films why not let us make you a quality, in company training film?
We can take your initial objective through to project completion and production of digital, or streamed resources.
.
Project areas we cover:
Development and Pre-Production, including:
Concept Development
Pre-production –  script development and key story boards
Sourcing of Producer/Director
Actors casting and screen testing
Location sourcing
Production
Filming – location or studio
Sound, camera operators, lighting, runners, grips, make up etc.
Post-Production
On-line edit and post production
Music, computer graphics, animation
Package design, copy and print
You can use us for the whole project or for specific areas where expert knowledge is required.
Contact us today to discuss your requirements.