"The conventional definition of management is getting work done through people, but real management is developing people through work." Agha Hasan Abedi
Management development of days gone by concentrated on the Plan-Do-Review of the business cycle: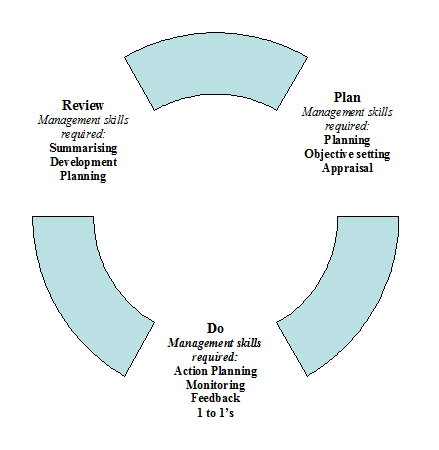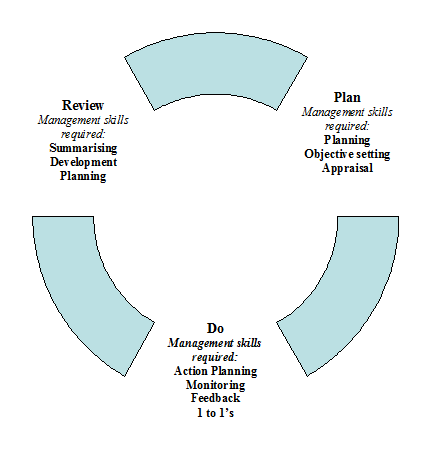 The above model is a robust model for project planning and every manager today still requires the skills of objective setting, reviewing, feedback and monitoring. However, the modern manager works smarter by developing their staff through work based projects.
The manager who can truly develop their staff through potential and not performance will have staff that will think for themselves and outperform.
Our programmes at The Development Company develop managers through pragmatic and experiential learning methods that can be replicated by managers at work. The Manager as a Coach enables attendees to use everyday situations for coaching – "growing the potential and purpose" (Whitmore) in every one of their staff.
The Development Company has great success in leading cultural change through developing a culture of coaching – "Wonderful results, thank you". Steve Boast of Northamptonshire Probation Trust. We deliver introductory sessions, courses and qualifications for your managers.
Mentoring has been discussed for years and the modern manager realises that learning is the key to ensuring they are sharp, focused and ahead of the game. The one constant is change in modern life and mentoring allows all to be able to manage change effectively. Developing mentors who enable the change process is a key skill for the modern manager.
One client we have tailored a mentoring programme for is the House of Goodness Group, who is looking to develop leaders for the future via a mentoring programme.
The modern manager will facilitate their peoples' work experience, enabling each person to develop their career by recognising learning opportunities.
Talk to us today if you are looking for a programme that will give your managers that extra edge.