Minute Taking Skills on How to Note Take and Produce Minutes
Most people struggle with minute taking and yet to be able to produce accurate meeting minutes, minute takers need to be skilled at note taking.
This is a pragmatic course delivered by a minute taker who has over 20 years' experience of minute taking at both formal and informal meetings. This course will give attendees tools and techniques to work assertively with the Chair person to enable a smoothly run meeting.
The day contains plenty of practice to help take notes and practice in producing different styles of minutes. The course will also cover how to create minutes in an easy to record format.
This course will be tailored to your organisation's agenda template and minutes template.
The course works well with a minimum of two attendees and a maximum of twelve attendees, however do get in touch if you have larger numbers.
Who should attend this course?
Anyone who needs to note take, and produce minutes of meetings.
By the end of the course participants will be able to:
State the responsibilities of the minute taker
Identify the appropriate position to sit in a room to take notes effectively
Work with the Chair to help you take effective notes
Be selective in recording information and note taking
Identify how to interject for clarity
Use a format to ensure key information is recorded on the minutes template
Lay out information in a style suited to you
Write the action points from the meeting notes
Minute Taking Course Outline
Introductions and Icebreaker
Identify what each participant finds difficult about note taking and writing minutes.
Ensure their concerns are addressed during the course of the day.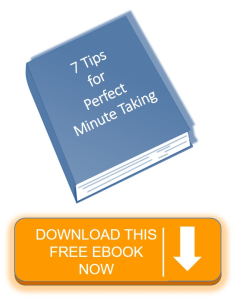 The Roles in a Meeting
The Meeting Cycle
Activity
Discussion and Implications for the Minute Taker
Film Scenario 1 – The Poor Meeting
Discussion and Debrief
Options for the Minute Taker
Film Scenario 2 – The Assertive Minute Taker
Discussion and Debrief
Case studies
The Agenda
What should be included in the agenda
Classifying Information
Using an objectives based agenda
Writing Minutes
Style of minutes (verbatim, summary and action)
Formatting the minutes
Minutes template
Note Taking Practice
What is note taking?
Style of Notes – linear
Note Taking skills
Film Scenario 3 – Note Taking Skills Practice
Practice in how to note take
Production of action Minutes
Discussion and debrief
Notes Taking Practice
Listening skills
Note taking style – skeletal, being more selective
Film Scenario 4 – Note Taking Practice
Practice in how to note take
Production of action Minutes
Discussion and debrief
Note Taking
Speed writing tips
Note style – mind mapping
Film Scenario 5 – Note Taking Practice
Practice in how to note take
Production of action Minutes
Discussion and debrief
Expanding the role
Writing a meetings brief
Link to preparing for a meeting
Film Scenario 6 – Drawing up an agenda/Note Taking Practice
Practice in how to note take
Production of action Minutes
Discussion and debrief
Summary
Attendees to draw up the summary using skills from the course
Action Planning and Evaluations
Minute Taking Course – Trainer Style
The day is a mixture of trainer input, discussion in small and main groups and exercises to practice the skills learned. The day should appeal to all learning styles.

The note taking practice will use video scenarios from the modern and real to life trainers resource 'Minute Taking Skills' by Development Films. During this course, attendees will experience an improvement in their note taking skills and ability to produce accurate minutes.
Clients
In-company clients who have benefited from this course include:
Open University
Dominos Pizza
BICS – British Institute of Cleaning Science
Lundbeck UK
NHS Connecting for Health Southern Cluster
Connexions
Grundon Waste Management
Agility Logistics
Europol
South Western Civil Service
Learning & Skills Council
Phoenix Software
MCL Software
GMPTE
Care Principles
ECMK
Kettering General Hospital
Datrix Training
Surbiton Hospital
University of Nottingham
CEH – Centre for Ecology and Hydration
Voluntary Action Oldham
In-company Minute Taking events are tailored to your agenda template and your minutes template, enabling the practice to be pragmatic. This speeds up the transfer of learning and builds attendees' knowledge in how to note take, techniques in note taking and production of timely and accurate minutes.
---
We offer training in the following areas:
For more information about our tailored training courses call 01933 227 695 or click here to contact us